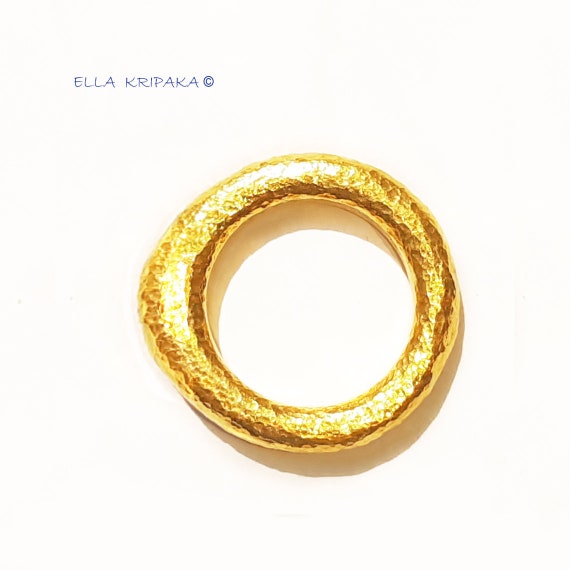 1,350.00 EUR
Fine Gold Ring Band Hammered Thick, also it can be Wedding Ring, it is made of solid gold 22 k. I use 100% handmade jewelry technology of Ancient Rome with Fine Arts to create this gold jewelry. I do the handmade technique for each item of my jewelry. Every item of my gold jewelry I begin with my own design drawings with pencils and watercolors. Then I do the technique of manual cutting, sawing and manual welding for gold. I do forging and hammering of jewelry for the art texture of gold. The gold jewelry is hammered. The ring is hand polished, it is with shiny surfaces of gold. The gold ring is with thicker hammered gold part. I make the very high hardness of the 22 k gold jewelry especially.
If you will want the 22 k gold jewelry can be thicker.
Width in the thick part is 6 mm. Thickness in the center is 5mm.
Band: Width is 3.2 mm. Thickness 3.2mm.
Weight is 13.5g. approximately (not less in the jewelry) for 6 size.
Thickness always does more weight because of an external diameter of the ring.
For more rings will be discount more.
The gold jewelry is for the custom order. I will make this jewelry during 7-8 business days. Also, I need 1- 2 business days for hallmark: solid gold 22 K ( 916). All my jewelry has hallmarks of The Assay Office of Latvia.
I can put more gold in the jewelry if you want. Also, all jewelry is sizable for you. I will be glad for your emails with all your questions about jewelry.
Please, favorite the jewelry and favorite my shop.
I am ELLA KRIPAKA ©. I live in Riga – the capital of Latvia, it is the country of the European Union. I studied the Arts of Jewelry in Europe. Also, I have my Bachelor's degree in History, Philosophy and Arts History. I know all cultures of great ancient civilizations of the World. I like the cultures of Ancient Greece, the Roman Empire, the Byzantine Empire, as well as the artworks of great artists of the Renaissance. I know perfectly Symbolism and Fine Arts of all cultures of different countries and I often creatively use this knowledge for my jewelry designs.
I accept PayPal, credit cards 24 hours 7 days a week. After I get the payment I will send the jewelry item in 9-11 business days to buyer 's address.
DISCOUNT For my marketing and for the best customer service I will pay part for EMS Shipping, so the buyer from any country will pay the flat 14 EUR for worldwide shipping. DISCOUNT Without EMS Shipping I will use UPS Express for other worldwide shipping with price 25 EUR with discount, I will pay part for shipping.
I will send a tracking number to the buyer.
EMS or UPS deliver the airmail parcel within 5-7 business days usually.
UPS Express delivers the airmail parcel in 2-3 business days usually.
I always send gold jewelry in beautiful gift boxes, which I always pack in plastic wraps and then I put it in the boxes for parcels.
I create fine gold jewelry in my small jewelry studio. I am not a big jewelry store. I do not offer cash refunds, but if you have any problems with the fit, size, please email me and I am happy to re-work your piece for you free of charge. I guarantee the best quality of each item of my fine gold jewelry. Any changes, adjustments, or special requests are free of charge. Just ship the jewelry back to me, with clear instructions and I will make the change(s) as requested. (NOTE: This does NOT include additional gold to make a piece larger if you miss-ordered, but I'll still help you. If you redesign a piece after you receive it, it doesn't include extra gold or products need, but I am still here to help you.) No Cash Refunds on orders per my sales contract.
My new shop in 2018, I create fine silver 999 art objects, big hammered silver sculptures for beauty and gifts.
www.etsy.com/shop/finesilverhomedecor