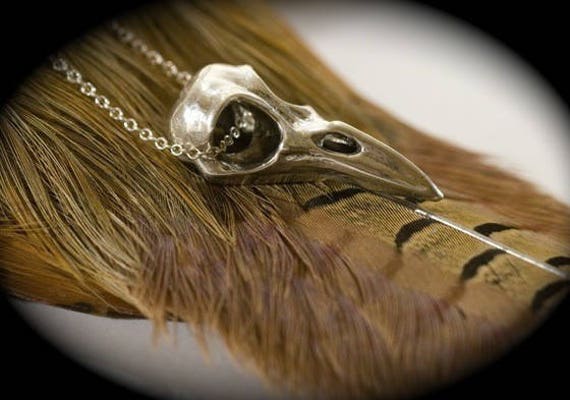 47.00 USD
I produce these pieces here in New York. The original was carved by hand here using a real cast of a crow skull as reference. Re carving the skull takes so much effort and time but you can't beat the results.
You don't have to wonder if an animal was harmed at any point during the production of this piece. So yes you have a vegan silver bird skull. Well people ask….
This sharply detailed and beautifully finished white bronze raven skull measures 1 1/2 inches long (4cm) and 1/2 inch wide (2cm).
Because it is solid white bronze it will develop a nice aged patina over the years. You can keep it gleaming with silver polish.
The holes in the eye sockets will accommodate most chains and cords. White bronze is silicone yellow bronze with sterling added to it.
Please select a silver plated chain length from the drop down menu on the item listing.
This is about a 1/4 scale of a life size raven skull. We fussed around with various scales and this one feels right.
All my pieces come wrapped in gift tissue paper in a gift box.
About shipping.
I don't make a profit from shipping. The cost is for 1st class postage and the packing materials which I buy wholesale.
US buyers will receive an email through paypal when I buy the postage online containing a tracking number. You don't have to wonder where your piece is or email me because you have access to the tracking 24hrs a day.
International shipping is not a problem. It seems to take about a week for pieces to arrive safely in Europe.
Because there is no delivery confirmation for international mail I send them 1st class.
If you read my listings you know I am an avid wood wanderer. I have been on the lookout for a dead crow my whole life. Once, while hiking into Woodstock after visiting a French crone I knew. There I came upon a dead crow. As I bent down to touch it the trees resounded with the caws of his fellows. I took one feather and held it up to them and I backed off. They fell silent and I moved off. That crow skull might have cost more than I wanted to pay.
More about the raven and crow family:
The Celts believed that Crow was an omen of death and conflict. She was associated with death transitions. Another belief was that the birds were faeries who shape-shifted to cause troubles. Magickal qualities included bringing knowledge, shape-shifting, eloquence, prophecy, boldness, skill, knowledge, cunning, trickery and thievery.
In the Middle Ages, people believed that sorcerers and witches used the symbol of Crow's foot to cast death spells.
In most of England, seeing a solitary crow meant anger, but in Northamptonshire, it meant ill fortune. Crow, cawing in a hoarse voice, meant bad weather. A death omen was a crow cawing thrice as it flew over a house. The Irish believed that Crow flocking in trees, but not nesting were souls from Purgatory. Finding a dead crow was a sign of good fortune. Russians believed that witches took the shape of Crow.
The New York shop is now open by appointment in the East Village email me to arrange a visit.
Thanks for looking and please favorite me or you may not find me again!
This piece is under copyright as are the photos and intellectual property herein.
– Crow Corvid Corvidae