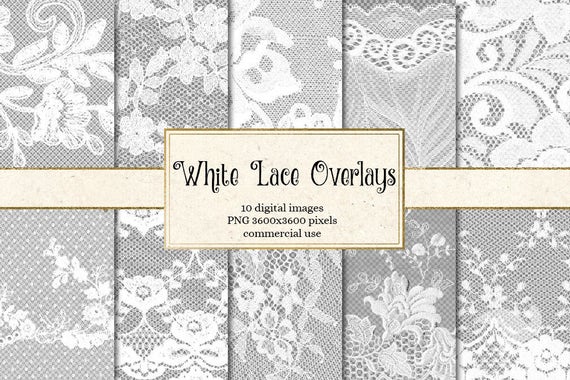 3.97 USD
IMPORTANT: These are white images so they will not print as-is, either on white paper (white on white will not show up) nor on any other color of paper because printers do not use white ink or toner. If you have ever refilled your printer ink or toner, you know that they use cyan, magenta, yellow, and black or what is known as the CMYK color gamut. White is not included. Lightness of an image is determined by the heaviness or lightness of the layer of ink on the page. WHITE IMAGES DO NOT PRINT. DO NOT ATTEMPT TO PRINT THESE AS-IS. Please use these as part of a design in graphics software.
This is a set of white lace overlays in PNG format with transparent background. There are 10 different images and size is 12″x12″ (30.48 cm) at 300 dpi resolution. Use them as embellishments or to overlay your digital paper backgrounds. They are perfect for wedding props, scrapbooking, card making, web design, or any of your creative projects!
Please note: This is a digital product, no physical items will be shipped. Product photos are for display purposes only and are not included in the download.
Thanks for looking 🙂
* * * * * * * * * * * * * * * * * * * * * * * * * * * * * * * * * * * * * * * * * * * * * * *
* The images can be used for personal or commercial purposes. POD friendly! Commercial use does NOT require an additional license purchase! Hooray!
* Images can be used to create any PHYSICAL or PRINTED goods to be sold commercially without attribution or limit. One exception: printed paper using the designs as-is without changes requires an additional license.
* Any DIGITAL product using the images must be sold in the form of a flattened, complete design product. You may NOT sell as-is or make other digital design resources such as clipart, digital paper, digital kits, or add-ons.
To clarify further:
Digital design resources are not allowed. A digital design resource is something that your customer will use to further create with digitally. Finished digital artwork and products are OK. Finished products are ready to be printed or placed on products as-is with no or minimal creativity needed on the part of your customer. If you are unsure if use in your product is ok, please send me a convo.
* Do not redistribute, resell, share or copy. Purchase does not transfer copyright.
* Due to the nature of the product, there are no returns once the item has been downloaded.
At this time I cannot accept any custom orders, special requests or requests for color changes to existing clip art or digital paper. Even if the request is small, I get many per day and I struggle to keep up with a busy schedule. Thank you for understanding 🙂