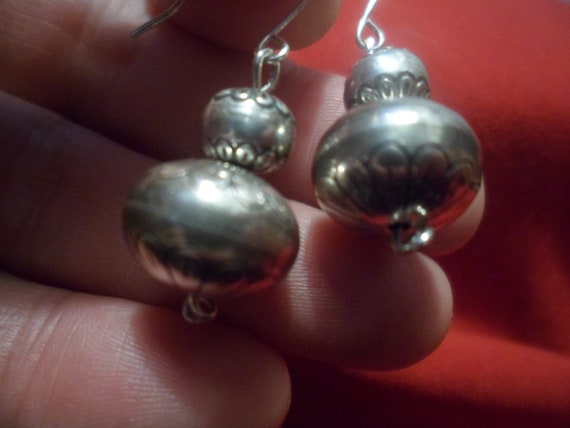 59.00 USD
EXCELLENT VINTAGE OLD GORGEOUS HANDMADE NAVAJO EARRINGS. Fresh from my old collection! From a southern estate sale, many moons ago.
LOTS OF ORIGINAL PATINA/TARNISH. ALL STERLING SILVER.
These are
MASTER
NAVAJO SILVERSMITH
HANDMADE WORKS
of
WEARABLE ART!
Each bead has had a lot of time spent on it. They have such amazing details. They have lovely
FLOWER PETAL
DESIGNS
on the upper and bottom-sides of each bead.
VINTAGE HANDMADE NAVAJO
BENCH SILVER BEAD EARRINGS
Both top and bottom beads have a rich floral blossom-petal
design on top and bottomsides.
EXCELLENT VINTAGE CONDITION.
They are very
SOLID-MADE.
These beauties are fresh out long-time storage.
They are
INCREDIBLE
WORKS of WEARABLE-ART
that really do illustrate the
FINE SKILLS
of
AMAZING NAVAJO SILVERSMITHS .
The
WORKMANSHIP INVOLVED
in making these
AMAZING BENCH BEADS
is just
PHENOMENAL
as there is so much
ATTENTION
to the
TINY DETAILS of CREATING
and silver-soldering the two sculpted silver halves
together by a
VERY-SKILLED NAVAJO SILVERSMITH. They have the lovely floral design that I have seen in the long necklaces too. These earrings match those beads very well.
I look at them in
AMAZEMENT.
LOTS of TIME, PATIENCE and SKILL
has been spent on each bead.
Really
INCREDIBLE.
Complete with a time-kissed patina on them.
***PARTICULARS***
Appr. 1 7/8 inches long including the
Solid 925 Sterling Silver Earwires
x
appr. 1/2 inches widest bottom bead.
Appr. 5.8 grams together (lightweight strong sturdy hollow beads).
The
BEADS
are a
SHINY BEAUTIFUL STERLING SILVER.
They are
LIGHTWEIGHT
due to the beads being
HOLLOW.
They are strung on a
Sterling Silver Wire.
The beads have a
GORGEOUS FINISH
to them and might benefit from a
light polishing.
These
EARRINGS are a GOOD LENGTH
for everyday wear and they have
WONDERFUL MOVEMENT.
These
TIMELESS HISTORICAL BEAUTIES
would make a
GREAT GIFT for ANYONE !
INTERNATIONAL ORDERS ARE WELCOME !
THANKS VERY MUCH for LOOKING 🙂 ! !