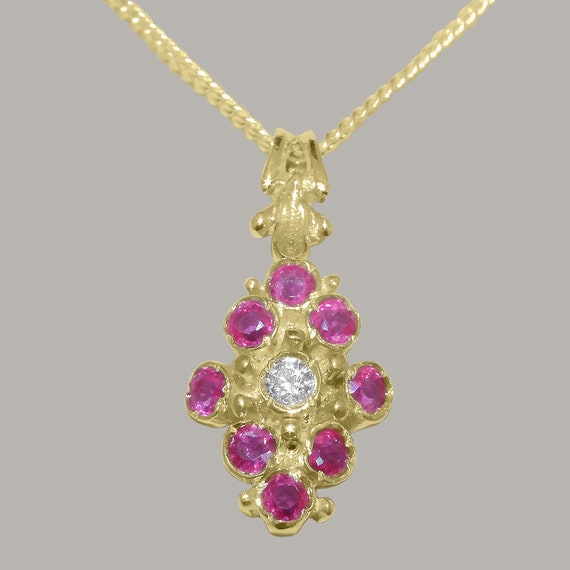 389.00 USD
This beautiful, high quality solid Gold pendant is set with a single dazzling Cubic Zirconia alongside eight deep Rubies, all measuring 2.25mm (0.09″). Each Ruby is natural and earth-mined, having been picked exclusively for its quality and colour and set by hand by expert English jewellers.
The pendant has been Designed & Made in England by traditional family jewellers. On the reverse of the pendant there is a Full Hallmark which includes a gold purity mark and the unique symbols of the Assay Office where the fine metal content of the pendant was tested and verified. Their mark on the pendant is your independent assurance that this pendant is made of Solid Gold. The Assay Office in London has been testing and marking precious metal articles since the 14th Century.
As we make our own jewellry, we can offer you a variety of chain lengths and gemstones. Upon receipt of your order your Pendant will be individually selected, checked, assembled and packaged.
Your pendant will be sent to you in an elegant blue or burgundy presentation box, ideal to give as a present to your loved one or to simply help maintain the beauty of your jewellry.
Overall Pendant Dimensions:
Total Height 21mm
Length, N-S, mm
Width, W-E, 10mm.
CUSTOMIZATION
This Pendant can be customized to your requirements – 9K, 10K, 14K, or 18K in Yellow, Rose or White Gold or Platinum and whatever stone combination you would like.
*Most of my designs can be made with most gemstones including Amethyst, Aquamarine, Blue Topaz, Citrine, CZ, Diamond, Emerald, Garnet, Opal, Peridot, Ruby, Sapphire, Tanzanite, Pink Tourmaline, Turquoise or any combination. If I don't have the stones in stock, I can usually get them in specially for you.
Please contact me for a no obligation quotation. I am happy to discuss any specific requirements you may have regarding the metal and/or gemstone quality you are seeking.
PAYMENT INFORMATION
Payment in full by PAYPAL
OR
Pay by Layaway – You decide how much you want to pay each week/month, once the full amount has been paid your order will be shipped to you. We require a downpayment of 10% (for stock items) or 50% (for made to order customized items) to secure your purchase.
SHIPPING
Your pendant will be shipped by Fedex Fully Trackable (USA, Canada, Europe Union only) or by Royal Mail Registered Mail for other countries.
24-48 Hour delivery (exc. Weekends and Public Holidays) (from when the ring ships for USA, Canada & Europe.
7-14 Days for other countries (If you require Fedex delivery for other countries please contact me for a quotation with your postal code (Zip code) and Country. Fedex Delivery for other countries will vary from 3 – 5 days (from when the order ships).
PLEASE PROVIDE A CONTACT TEL NUMBER UPON ORDERING. WE PASS THIS ON TO THE APPROPRIATE COURIER IN CASE THEY NEED TO CONTACT YOU REGARDING DELIVERY. WE DO NOT USE THIS INFO FOR ANY OTHER PURPOSE.
RETURN INFORMATION
If you find you are not happy with what you have purchased and would like to return the item then please do contact us so we can provide you with all the relevant details to make the return easy and hassle free.
You can either return the item for a refund or an exchange. We do NOT charge any restocking fees.
If you have purchased a pendant and it is simply the wrong size then we will be happy to exchange it for the correct size.
If the piece of jewelry simply did not suit you then if you can let us know what exactly it was that did not work for you then we will do our best to advise on a suitable ring from our collection that may be more suitable.
We offer great service and advice on jewelry purchasing, however, if you would just prefer a refund that is fine too.
*CUSTOMISED ORDERS: PLEASE NOTE THAT THE LABOUR AND MATERIALS THAT GO INTO CREATING UNIQUE CUSTOMISED PIECES CAN NEVER BE RECOVERED SO CUSTOMISED PIECES ARE NON-REFUNDABLE. PLEASE ENSURE THAT YOU FEEL ALL YOUR QUESTIONS HAVE BEEN ANSWERED BEFORE COMMITTING TO A CUSTOM ORDER.
P2201/54/10-9Y GemsofLondon