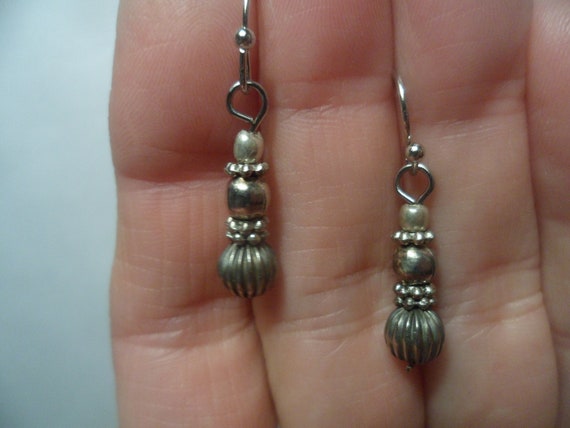 27.00 USD
EXCELLENT VINTAGE CONDITION. From my own collection! These are perfect when you want some shorter earrings to wear. Lots of character to these ones!
NAVAJO OLD HANDMADE BEADS
(not checked for sterling content)
SILVER-PLATED EARWIRE-HOOKS – these work really well however if you need solid sterling hooks, I can replace these ones for free per pair.
SILVER EARRINGS
***SPECIFICS***
Appr. 1 1/4 inches long including the silver earwires
x
Appr. 1/8 inches widest part.
Appr. 2 GRAMS TOGETHER
(Sturdy hollow beads and very lightweight)
**Please always check measurements since the photos
can make items appear enlarged or distorted :)**
HANDMADE BENCH BEADS
EXCELLENT
UNWORN VINTAGE CONDITION.
No dents/damages.
These beauties are so pretty…and they are
AUTHENTIC HANDMADE
works of
HISTORICAL WEARABLE ART.
They look
STUNNING
on and have the silkiest feel to them.
They are very
SOLID-MADE.
These delightful
NAVAJO
earrings have been carefully
stored in an airtight container for a
long time.
They are
LIGHTWEIGHT
due to the beads being
HOLLOW.
Each bead is smooth with no stampings.
They are strung on a
silver-colored wire which allows great movement and
enables them to hang very nicely.
The
WORKMANSHIP INVOLVED
in making these
AMAZING BEAD BENCH BALLS
is just
PHENOMENAL
as there is so much
ATTENTION to DETAIL .
They have
been beautifully created by a
VERY-SKILLED NAVAJO SILVERSMITH.
Studying them really makes this evident.
LOTS of TIME, PATIENCE and SKILL
has been spent on each bead. The
ROUND BEADS have been HANDFASHIONED
very carefully with
ATTENTION to the UTMOST DETAILS.
They are
MINI WEARABLE-ART SCULPTURES in MOTION,
meant to be
TREASURED and ENJOYED :).
These
EARRINGS are a GOOD LENGTH
for everyday wear and they have
WONDERFUL MOVEMENT .
These
TIMELESS BEAUTIES
would make a
GREAT GIFT for ANYONE !
INTERNATIONAL ORDERS ARE ACCEPTED !
THANKS VERY MUCH FOR VISITING 🙂 ! !