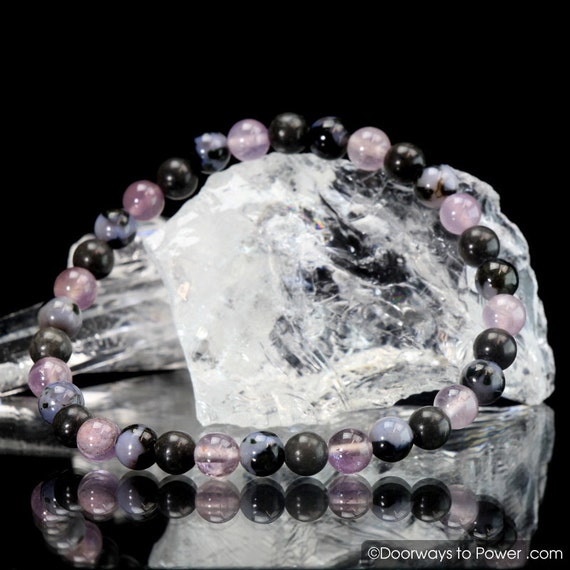 148.00 USD
"The 2021 Shamanic Power bracelet is composed of Auralite-23, Mystic Merlinite and Master Shamanite. These stones work in a potent synergy to call forth one's latent Shamanic potential. Auralite-23 accentuates one's psychic and visionary capacities. Mystic Merlinite aids on one creating magical results through channeling power. Master Shamanite enhances one's ability to engage in Shamanic journeying, and to call upon spirit helpers for healing, protection, and manifestation. Those who use stones shamanically will find powerful allies in these three.
Size: Made with 6 mm beads on comfortable elastic band. Also available in 8 or 10 mm beads.
Guarantee Card
Each Bracelet is personally programmed by Robert Simmons for the highest good of the wearer.
These Limited Edition Bracelets each comes with a signed and numbered Information/Guarantee Card.
Shamanism is a very demanding spiritual path. One must be a keen observer, and one must hold a focused intention in order to truly enter the shamanic worlds. One must use one's personal power in order to align with greater powers. The goal is the perfection of one's awareness and the merging of one's intention with the Universal Flow. Stones such as those in the Shamanic Power 2021 Bracelet provide vibrational attunement to this Flow." —Robert Simmons