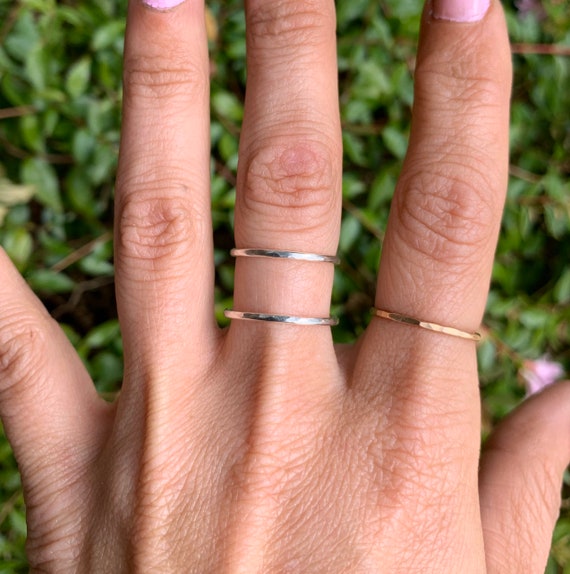 25.00 USD
this includes orders with priority shipping>>The last day to place orders that will arrive before Christmas is Wednesday 12/8. Applies to domestic orders only. >>>><<<<<<********All rings are custom made to each size and tumbled to a beautiful high shine finish.
Wear this beautifully thin ring alone or with others. Made with 16 gauge wire looks delicate but is thick enough to withstand being worn every single day.
This is a great width for thumb rings because it still looks really beautifully delicate but has the durability to be a thumb ring as thumb rings usually take a beating. Also check out the hammered
sets, or singularly sold rings.
Select size at checkout. Please specify in the buyer's box if you have any special requests. Let me know if you need a special size you don't see listed; If you need a quarter size just leave a note.
set of 3 hammered silver bands
www.etsy.com/listing/113476208/tri-hammered-sterling-silver-stacking
set of two silver rings one hammered and smooth and one rope.
www.etsy.com/listing/116628074/contrasting-sterling-silver-stacking
single hammered silver band
www.etsy.com/listing/115119334/thin-rope-stacking-ring-sterling-silver
Custom orders have a 5-7 business day processing time to be made and shipped. All orders mailed in an eco friendly bubble lined envelope. Domestic orders sent USPS first class with a tracking number and international orders sent USPS first class international with a customs number–tracking not available outside the US. Shipping…
PLEASE NOTE! Any orders that are shipped internationally but are lost or stolen in transit, I cannot offer a refund.
**Please note: if you purchase a shipping upgrade, even express overnight, you will still have to wait at least 2 business days for your order to be custom made for you. Though I will try to make upgraded orders a priority, purchasing shipping upgrade only affects how long it takes to get to you from the date of shipment and includes $100 of insurance on your order.**
Instructions on how to find your ring size.>>>> the best way to find your ring size is to cut a paper strip (approx 3mm wide) and make a temporary ring with the strip of paper and some tape.. then cut the ring and measure how many mm it is in length then compare it to the size chart below.. **I would advice against using string because most of the time the results will be inaccurate**
**************************************************************************************************************************
OFFICIAL SIZING CHART: Inside Circumference of Rings in Millimeters–All Gauges
size 1 – 40mm
size 1.5 – 41mm
size 2 – 42.5mm
size 2.5 – 44mm
size 3 – 45mm
size 3.5 – 46mm
size 4 – 47 mm
size 4.5 – 48.5mm
size 5 – 50mm
size 5.5 – 52mm
size 6 – 53.5mm
size 6.5 – 55mm
size 7 – 56mm
size 7.5 – 57mm
size 8 – 58mm
size 8.5 – 59mm
size 9 – 60mm
size 9.5 – 61.5mm
size 10 – 63mm
size 10.5 – 64mm
size 11 – 66mm
size 11.5 – 67mm
size 12 – 68.5mm
size 12.5 – 70mm
size 13 – 71mm
size 13.5 – 72mm
size 14 – 73mm
size 14.5 – 74mm
size 15 – 75mm