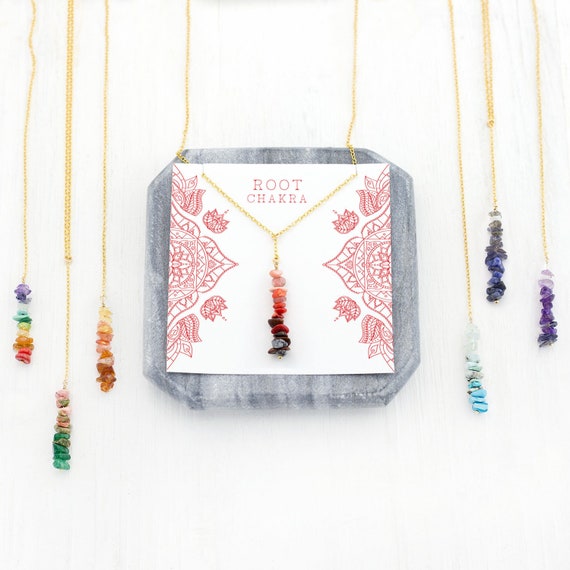 51.95 USD
Root Chakra Gemstone Y-Necklace, Red and Black Jewelry, Inspirational Gift for Her, Spiritual Healing Crystals, Good Vibes, Raw Gemstones
………………………………….
This raw crystal lariat necklace features a wire wrapped gemstone bar hanging from a 14k Gold Filled, Sterling Silver or 14k Rose Gold Filled chain. This necklace is perfect for layering and makes a great inspirational gift!
Each piece arrives packaged on a custom card detailing the gemstones that make up each chakra bar!
Available in 2 different styles:
∙ ADJUSTABLE LENGTH: Length of the chain is 20" TOTAL and is completely adjustable. Link slides along the chain.
[ For example: when necklace is worn at 18″, the drop is 2" in length. Can also be worn tight as a choker or loose. ]
∙ FIXED LENGTH: Link is fixed to the chain with a 2" chain drop. Available in 16", 18" and 20" length.
[ For example: an 18″ chain will be non-adjustable with a 2″ drop ]
………………………………….
H O W ∙ T O ∙ O R D E R
1st DROP DOWN menu
• Select which of the Chakras you would like
2nd DROP DOWN menu
• Select the STYLE & METAL of your necklace
………………………………….
C H A K R A ∙ O P T I O N S
• Rainbow Chakra . . . . . [Amethyst, Iolite, Aquamarine, Turquoise, Green Aventurine, Peridot, Yellow Citrine, Amber Citrine, Coral]
• Crown Chakra . . . . . [Clear Quartz, Purple Amethyst, Iolite]
• Third Eye Chakra . . . . . [Labradorite, Moonstone, Iolite, Sodalite]
• Throat Chakra . . . . . [Aquamarine, Larimar, Turquoise]
• Heart Chakra . . . . . [Rhodochrosite, Unakite, Green Aventurine]
• Solar Plexus Chakra . . . . . [Ethiopian Opal, Rutilated Quartz, Yellow Citrine]
• Sacral Chakra . . . . . [Yellow Citrine, Sunstone, Amber Citrine]
• Root Chakra . . . . . [Rhodochrosite, Coral, Red Jasper, Black Obsidian]
Please note: Because we use natural stones, the stones may vary slightly in shape, shade and size. They may also contain natural inclusions.
………………………………….
M A T E R I A L S ∙ A N D ∙ S I Z E
• Chain is 14k Gold Filled / Sterling Silver / 14k Rose Gold Filled
• Gemstone bar measures 1.5″
………………………………….………………………………….
C U R R E N T ∙ P R O D U C T I O N ∙ T I M E S
All items are made to order, so please check the top of our policies page for the most up to date production and delivery times.
………………………………….
E X P E D I T E D ∙ S H I P P I N G
At checkout, you have the option to choose faster shipping in the drop down menu. Ship times do NOT include production times [please see above]. However if you select expedited shipping, we will try to get your order completed faster.
………………………………….
G I F T S
Each item is individually wrapped in a branded jewelry gift box. We do not include price receipts in the package. We are happy to ship directly to the recipient.
………………………………….
O U R ∙ P R O M I S E ∙ T O ∙ Y O U
We feel truly grateful for each and every order you intrust to us. We handcraft every piece with great care and love. Within 30 days of your purchase, if you notice any manufacturing defect in your piece, we will gladly repair your jewelry at no extra cost.
We also understand that accidents happen, so if your Delezhen Jewelry ever needs some extra TLC, we'd be happy to repair it for you. (Reasonable charges, if any, will be determined by the nature of the repair.)
………………………………….
C O N N E C T ∙ W I T H ∙ U S
Follow us on Facebook, Pinterest and Instagram to get updates on Sales, Promotions & Giveaways!
www.facebook.com/delezhen
www.pinterest.com/delezhen
Instagram: @delezhen
© Delezhen Inc 2010-2018. All Rights Reserved. Images and Designs are protected under section 1306 of Chapter 13, US Copyright laws. Delezhen is a Registered trademark of Delezhen inc.