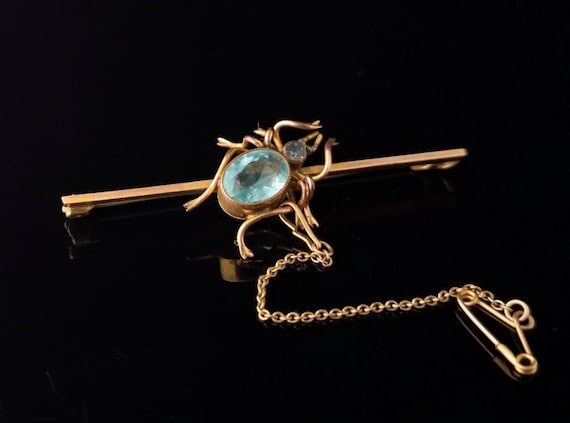 279.00 GBP
A gorgeous antique, early Edwardian gold spider brooch.
Large faceted Aquamarine coloured paste stone body, with a smaller stone set into the head.
Set into 15ct yellow gold and mounted onto a 15ct gold bar with an attached safety chain.
The Victorian's began somewhat of an obsession with insect themed jewels from scarabs to spiders, entomology was increasingly popular with insects appearing in many places not least jewellery.
They were seen as an exotic fashion and this carried on into the early 20th century.
No marks tests as 15ct, makers mark present but rubbed, RCH.
It has a base metal pin and variation c type clasp.
It comes in a gorgeous antique jewellery box.
Condition:
Good condition overall, slight bend in the pin, light patina and surface wear commensurate with age.
Approx measurements
Spider length 1″
Spider width 0.75″
Bar 2.5″ width
Large paste length 0.5″
Weight approx 4.58 grams
Any questions please contact us.
FREE WORLDWIDE SHIPPING