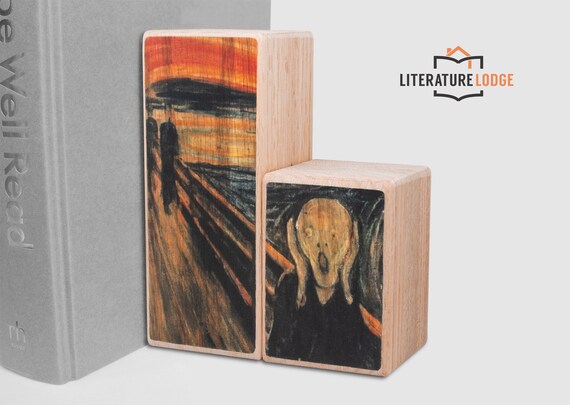 27.99 USD
Literature Lodge's handmade solid bookends are the perfect compliment to any literary bookshelf.
The bookend measures 6″x5″x2.5″. And at over 1.5 lbs of solid oak, it is plenty heavy enough to hold books firmly in place. The images on the bookend are printed on both sides, so whether you're placing it at the right or the left of your books, the beautiful graphics will show proudly.
And if you're super-sensitive about the condition of your bookshelves and books (as many of us are), a leather strip on the bottom and book-facing sides provide a soft contact surface.
—————–
THE SCREAM BOOKEND
This bookend features the painting The Scream by Edvard Munch
—————–
NOTES:
The list price includes (1) bookend.
The two pieces visible in the product photo are connected, forming 1 L-shaped bookend.
Turnaround Time: Each item is made to order, and ships 5–7 days from the time of purchase.
Books in photo not included.