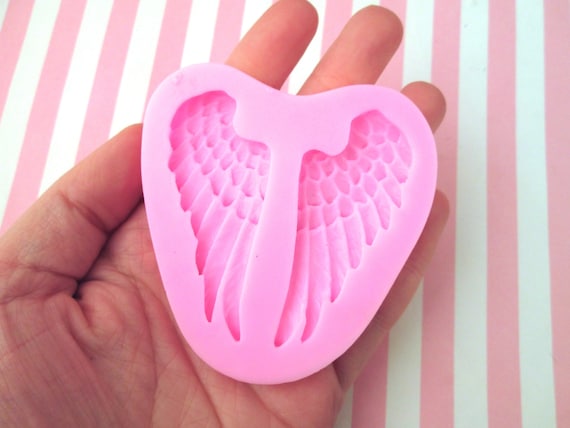 5.50 USD
These molds make one pair of wings that are 60x25mm. 
These molds are so easy to use. You do not need a releasing agent to pop out your pieces!
These molds are made of food grade silicone. They have nice detail and they are good for Chocolate, Hard Candy, Butter, Ice Cream, Fudge, Fondant, Ice, Gelatin, Marzipan, Candy Clay, Gum Paste, Royal Icing, Gummi Bears, Poured Sugar, Edible Cake Decorations and more. You can also use the for Plaster, Paper Clay, Wax, Cement, Casting Resins, Polymer Clay, Melt and Pour Soap, Candles, Hot and Cold Processed Soap, Hot Melt Glue, and more…
These molds can withstand temperatures as high as 450 degrees F. (-60 degrees celsius to 220 degrees celsius). They are also unaffected and remain pliable when placed in the freezer.
If you are working with polymer clay, you can bake your clay right in the mold, this will alow you to release the molds without distorting the image.
To clean the molds you can wash them with soapy water.