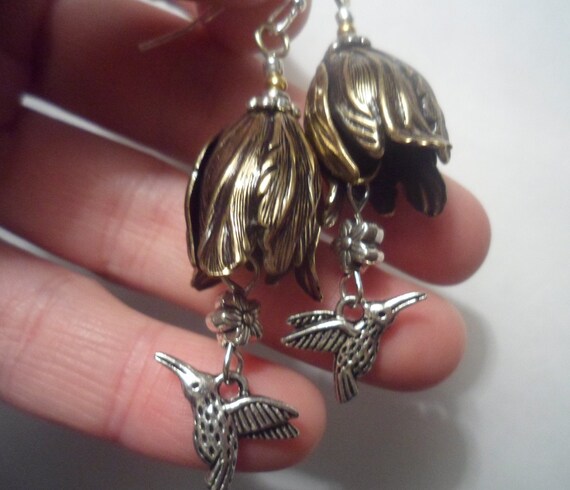 72.00 USD
EXCELLENT UNWORN VINTAGE CONDITION. Fresh from my personal collection! I kept a pair and wear them often, to lots of smiles and compliments!
BIG DRAMATIC FIESTA FUN with GREAT MOVEMENT with HAPPY FLYING HUMMINGBIRDS.
TWO TONE GOLD AND SILVER
INCREDIBLE DETAILS AND LAYERING OF THE
METALS FOR A VERY RICH FULL
LOOK.
The tulips are a rich golden color with
patina in the grooves – really nice.
MEXICO HAUTE COUTURE RUNWAY
FANCY-SHMANCY FOR SURE !!
ORNATE TULIP WITH HIGH DETAIL HUMMINGBIRDS
LOVELY DEEP PATINA
REALLY ORNATE
DETAIL ON THEM. SILKY TO
TOUCH.
THE TULIPS AND LOWER METALS HAVE NOT TESTED FOR
STERLING OR GOLD
CONTENT.
DANGLE DROP
925 STERLING SILVER EARWIRES
***MEASUREMENTS***
Appr. 2 1/2 inches long including the
925 SOLID STERLING SILVER
earwires
x
appr. 5/8 inches widest part of tulip.
10.5 GRAMS TOGETHER
Fresh out of storage, these
GORGEOUS TULIPS
really make a perfect pair of
DRAMATIC and ARTSY
earrings.
The
TULIPS
and the cute little
BEAD BALLS
swinging freely beneath
have
GREAT DETAIL.
These earrings are
LIGHTWEIGHT and have GREAT MOVEMENT.
The length is
GREAT for EVERYDAY
wear.
They are like a party by themselves !
They
SWING SO NICELY.
These would make a
GREAT GIFT !
THANKS VERY MUCH FOR VISITING :)!!