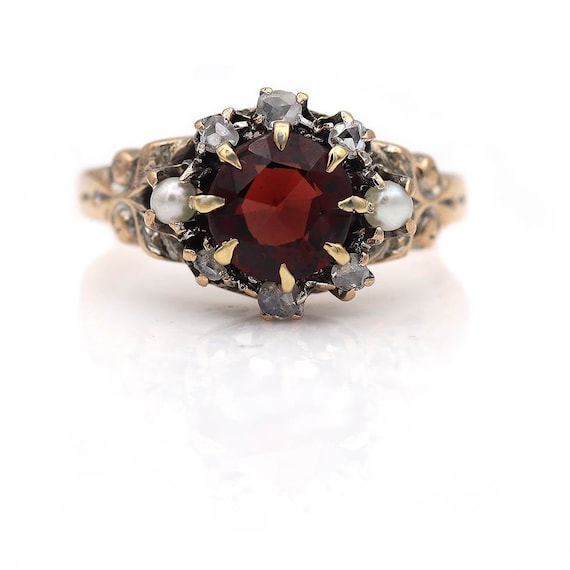 1,850.00 USD
The Daia ring is an authentic vintage engagement ring from the Victorian era circa 1900's. This ring features a natural 1.25 carat round cut garnet set within 8 knife edge prongs, and is surrounded by a delicate halo of rose cut diamonds and 2 seed pearls.
Crafted in 10 kt rose gold, accentuated by swirls of unique filigree work. A Victorian delight, in very good condition.
History and Caring for your Garnet Jewelry:
The garnet is a group of 6 silicate minerals and is known for its deep red hue, but it's colors can range anywhere from blue to brown. The legend of garnet is one of passion and courage. Garnet celebrates it's birthday every January. Garnet is a softer semi precious gemstone and rates a 6.5 on the Moh's hardness scale and we recommend warm water to clean your garnet jewelry.
FOR RING SALES
You have 30 days to inspect any antique engagement ring purchased, and decide if it's to your satisfaction. 100% Satisfaction Guaranteed – Return for full refund if you are not completely satisfied.
Our Promise To You:
1. All antique engagement rings are original.
2. All antique and vintage engagement rings are ethical and conflict free.
3. Free shipping and returns, 30 day return policy.
4. One year layaway plan.
5. 100% complete satisfaction.
6. 30 years experience in the diamond and antique jewelry industry.
Best Etsy Shop:
www.refinery29.com/vintage-etsy-engagement-rings
————–
Inventory #: (Ad 2287)
Quantity in Stock: Only One Available
Composition: 10 Kt Rose Gold
Primary Gem: Vintage Natural Garnet
Gem Weight: 1.25 Ct
Accent Diamond: Vintage Rose Cut Diamond
Accent Diamond Weight: .15 Ctw
Accent Gemstone: Vintage Seed Pearls
Ring Size: 6.5
Resizable: Yes
Sizing: Free
Era: 1900s
Free Shipping: Yes in the U.S.
Do You Accept Etsy Gift Cards: Yes
Layaway: Yes
Returns: 30 Days
More pictures and a high definition video of this ring are available on request
Please feel free to message us with any questions or contact our shop directly at 1-877-321-3326 (DECO)
Visit our website: vintagediamondring.com
Keep up our latest additions: vintagediamondring.com/latest-additions.html
Follow Our Blog: vintagediamondring.com/blog/
Etsy Review: The ring was even more beautiful in person. What an amazing selection of unique rings. I would highly recommend.
Etsy Press: www.refinery29.com/vintage-etsy-engagement-rings
View More Rings in our Etsy Shop: www.etsy.com/shop/ArtDecoDiamonds?ref=shop_sugg
thriveglobal.com/stories/suzanne-sachs-of-vintagediamondring/
Each engagement ring is solely owned by ArtDecoDiamonds. Each diamond has been graded by a certified graduate gemologist of the Gemological Institute of America (GIA). We have an office in New York City and have been in the diamond and antique jewelry industry for over 35 years! Please visit our shop's "about" page here on Etsy, or visit us at our website, VintageDiamondRing.com for more information about our antique engagement rings and vintage jewelry.
If you have any questions about a vintage engagement ring, or if we can help you with any of our other pieces of vintage jewelry, please feel free to contact us through Etsy, Suzanne [at] VintageDiamondRing.com, or by phone 1-877-321-3326 (DECO). Thanks for visiting!