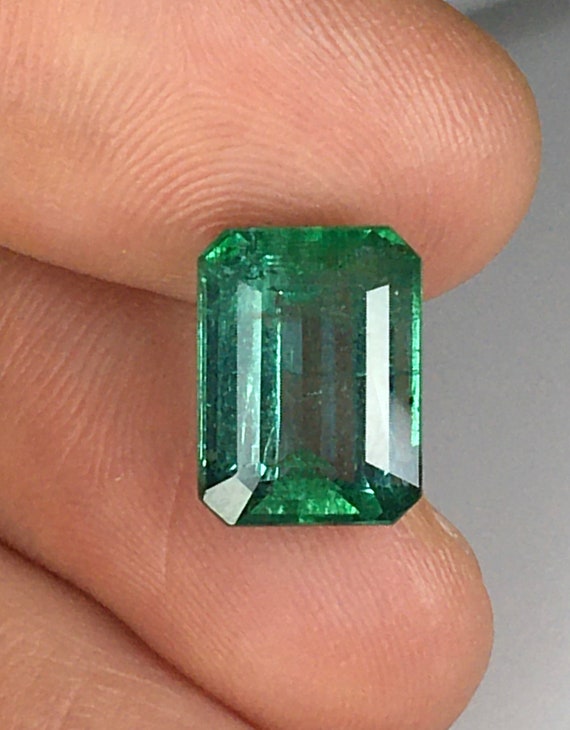 5,098.68 CAD
Loose emerald cut natural emerald 6.35 carat approximately 12.2 x 9.2 mm.
Well proportioned natural emerald with pleasant colour for ring or pendant.
Gem Type: Natural Emerald
Pieces: 1 pce.
Weight: 6.35 carat
Dimensions: 12.19 x 9.18 mm
(6.97 mm / 75.93% total depth)
Shape: Emerald faceted step-cut crown and pavilion.
Color: Green, Medium – Medium Light Tone and Saturation
Clarity: type-III VS
Origin: East Africa
Treatment: traditional oil
Our shop usually has a large inventory of emeralds in many shapes and sizes across a broad selection of qualities. We also have natural emerald roughs from which we are able to make custom orders in shapes not commonly found in the market.
You can find more of our emeralds at this link,
www.etsy.com/ca/shop/NoritaJewelryBox?ref=listing-shop2-all-items-count&section_id=24345815
We make fine jewelry and provide best value for your money.
We only deal in natural, earth mined gemstones. When you buy from us you can be assured everything is 100% as described.
Should you be looking for a particular style of jewelry or gemstone, please don't hesitate to contact with any questions through etsy message or noritajewelrybox@gmail.com
As our shop policy is to ship all parcels insured with tracking number – signature required on receipt of the package.
We ship worldwide.
Sincerely,
Nora
Item Ref. EC4-ZA6.35IGI