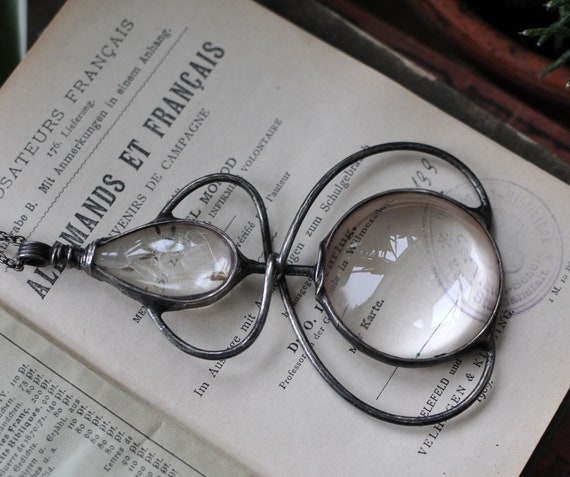 42.00 USD
Made to order, reserved.
Thank you so much!
Loupe necklace by MARIAELA.
The loupe necklace is made of tin. This is an amazing handmade piece. The necklace is a real magnifying glass.
In the picture you can see a dandelion variation, but I can make another flower composition for you. I can also put into it some sand or moss.
The necklace would be a perfect gift.
I urge you to see
💜✍📸 Want to know more about me? Thank you Etsy for featuring me! blog.etsy.com/en/featured-shop-mariaela/
All of my works are unique one off pieces and completely handmade in my studio.
Handmade with love ♥.
Tifanny method – eco friendly tin.
-Length 10 centimetres or 4 inch
-Diameter magnifying glass 3 cm or 1,1 inch.
-Stylized to old silver
Click:
www.etsy.com/shop/MARIAELA?ref=pr_shop_more
When you buy two items, you pay once and you get a wonderful gift!
▲▲▲••••••••••••••••••••••••••••••••••••••••••••••••••••••••••••••••••••••••••▲▲▲
"My true self is free. It cannot be contained." – Marcus Aurelius
You are a great hunter if you have found me!
I put my soul in what I do!
If you would rather have flowers in your hair than diamonds on your neck – MARIAELA is the best choice for you!
For the woman who wants to walk barefoot with flowers in her hair, for the man who wants to live off the Earth the way nature has intended.
Bohemian jewelry, modern hippie chunky rings, boho chic bracelets, unique necklaces with natural stones, full of positive energy.
▲▲▲•••••••••••••••••••••••••••••••••Links••••••••••••••••••••••••••••••••••▲▲▲
Want to see more? Go here ➔ www.etsy.com/shop/MARIAELA
Shop policies ➔ www.etsy.com/shop/MARIAELA/policy
you tube ➔ www.youtube.com/watch?v=Dm8vGb7KdgE
Facebook ➔https://www.facebook.com/ElaTurkoniak/
▲▲▲••••••••••••••••••••••••••••••••••••••••••••••••••••••••••••••••••••••••••▲▲▲