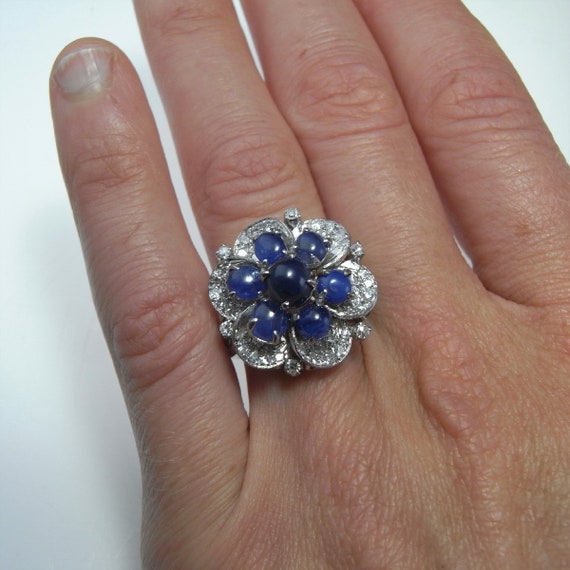 8,800.00 USD
Here we have a big unheated denim cornflower blue natural sapphire and old cut diamond Art Deco filigree bombe ring circa 1930, 6.8 carats total gem weight.
This one of a kind ring is completely handmade of dazzling workmanship and detail. To me the design is a little like a daisy or flower but it is also extremely abstract too. With an overall bombe or dome shape there is a definite silver screen luxury appeal and an elegance and exuberance of the luxury of another time- pure 1930s glamor. It's easy to see this luxury ring worn with a mink cape and a bias cut slinky figure hugging silk gown to a party with jazz musicians playing…not surprising too because that is exactly the time this ring was made and the lifestyle enjoyed by the elite of society when this ring was made. This is a custom made antique ring of the era not a reproduction.
Of large proportions the sapphire and diamond cluster itself measures approximately 13/16″ in diameter by 1/2″ high off the finger – it makes a big splash on the hand and is perfect as a one of a kind exuberant engagement or anniversary ring or that dazzling cocktail ring.
The sapphires are lovely indeed and have a color variation between inside lighting conditions and full sun outdoors. Outdoors the color of these unheated untreated sapphires is a medium cornflower blue and indoors I would describe the color as denim a blue with a dash of gray spun into the color. Like all sapphires different lighting conditions will result in slightly different hues/shades and that effect is very beautiful in these particular stones. The central cabochon is a little darker than the six surrounding cabochons. There are some light chatoyant inclusions to some of these cabochons with most being eye clean- the sapphires are transparent except for a single translucent/semi-transparent stone. There are no modern treatments, no heat treatment these fine gem quality sapphires have been polished only and are just as mother nature made them! The total sapphire weight is 5.8 carats!
Decorating the outside of the floral dome there are old cut natural sparkling white diamonds, a total of 48 with a combined diamond weight of 1 carat as estimated in the setting. These are F/G in color and mainly VS/SI (mainly VS a very few SI) in clarity.
The combined sapphire and diamond weight is 6.8 carats which is very substantial indeed!.
Currently a size 7 US, there is a small amount of leeway to resize – but please do inquire to make sure of your size prior to purchasing! The ring weighs 5.96 grams
Inside the shank a metal fineness mark "14K" can be clearly seen, this meaning of course solid 14 karat white gold and confirmed also by testing.
The gallery of the cluster is decorated with feminine lace like filigree white gold decorations that can be seen from the sides also when the ring is on the hand.
This is an extraordinary Art Deco ring in lovely condition being ready to gift or to wear.
An Appraisal is included with your purchase.
We will ship in a presentation box for safe keeping.
The photos form part of the description of this fine sapphire and diamond Art Deco ring.
Like all colored stones there is a color variation that occurs in different lighting conditions both inside but also outside, even the time of day can make the color of a stone appear a little different. We do our best to show colors as we see them. Color perception is highly individual and some people can perceive more colors than others, also colors can appear somewhat different on different screens and devices due to variations in screen hardware and device display settings.