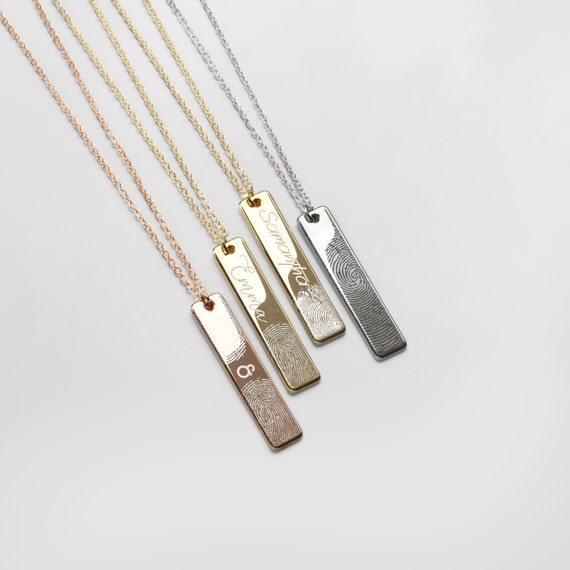 23.13 USD
Vertical Personalized Fingerprint Necklace Identification Custom Gift for Her Name Bar Necklace Baby Fingerprint Anniversary Gift
∙ ∙ ∙ ∙ ∙ ∙ ∙ ∙ ∙ ∙ ∙ ∙ ∙ ∙ ∙ ∙ ∙ ∙ ∙ ∙ ∙ ∙ ∙ ∙ ∙ ∙ ∙ ∙ ∙ ∙ ∙ ∙ ∙ ∙ ∙ ∙ ∙ ∙
This vertical bar necklace can be personalized with one to two fingerprints of your loved ones! It is the perfect way to keep them close to your heart! You can also add a name or inscription to make it even more special!
Each item is made to order, which gives our pieces a unique meaning that is specific and special to you.
H O W ∙ T O ∙ O R D E R
It's easy as 1, 2, 3!
1. Select options from the dropdown menu
2. Add to cart and proceed to checkout
3. Submit your personalization request in the buyer's note section
I T E M ∙ S P E C I F I C A T I O N S
– BAR SIZE: approx. 1.5" x 0.30" (40mm x 7mm)
– CHAIN LENGTH: 17.5"
– MATERIAL: Gold Plated / Silver Plated / Rose Gold Plated
M O R E ∙ W A Y S ∙ T O ∙ P E R S O N A L I Z E
– DOUBLE-SIDE ENGRAVING: Make it even more special by personalizing both the front and back sides of our nameplate jewelry
– CUSTOM LENGTH: Please select the desired chain length from the dropdown menu at the following link and be sure to checkout both the necklace and custom chain at the same time www.etsy.com/listing/533229635/
– SPECIAL GIFT PACKAGING: Upgrade to a gift package for something more tailored to the occasion! Includes: Bridesmaid and flowergirl proposal cards
www.etsy.com/listing/529672281/
C A R E ∙ T I P S
We don't want your special moment to fade. To maintain the quality of your new Mignon&Mignon jewelry, please:
– Do not wear it to the pool, spa, or the beach
– Remove when sleeping, exercising, or doing other physically strenuous activities
– Avoid contact with perfumes, body oils, and other chemicals, including household cleaners.
– Do not use chemical jewelry cleaners
– Gently polish with a soft, lint-free cloth. Please do not use a metal polishing cloth
– Store your beloved jewelry in a cool dry place
P R E P A R A T I O N ∙ A N D ∙ P R O C E S S I N G ∙ T I M E
We are excited to now offer expedited processing on all personalized orders, which may take anywhere from 1 – 2 business days.
S H I P P I N G
– DOMESTIC (U.S.): 3 – 5 business days
– INTERNATIONAL: 7 – 14 business days
Therefore, it generally takes 4 – 7 business days (PROCESSING + SHIPPING) after the order date to receive your order.
Please note: the "ship by" date on your invoice is NOT equivalent to the actual "delivery" date.
– SHIP BY DATE: When your package leaves our studio.
– DELIVERY DATE: When your package arrives to you.
A B O U T ∙ M I G N O N & M I G N O N
Mignon&Mignon is not a company. We are a team of happy people dedicated to handcrafting every order with excitement and love! We know this isn't about us, but all about you. Thank you so much for allowing us to be a part of your special moment!
O U R ∙ P R O M I S E
We believe that it is of the utmost importance to ensure that our customers are satisfied with their one-of-a-kind pieces. We hold our customers near and dear to our hearts and are more than willing to move heaven and earth to make sure your shopping experience is unforgettable!
S T O R E ∙ P O L I C Y
www.etsy.com/shop/MignonandMignon/policy
C O N N E C T ∙ W I T H ∙ U S
www.mignonandmignon.etsy.com
instagram.com/mignonandmignon (@mignonandmignon)
www.facebook.com/mignonandmignon
#makeitspecial