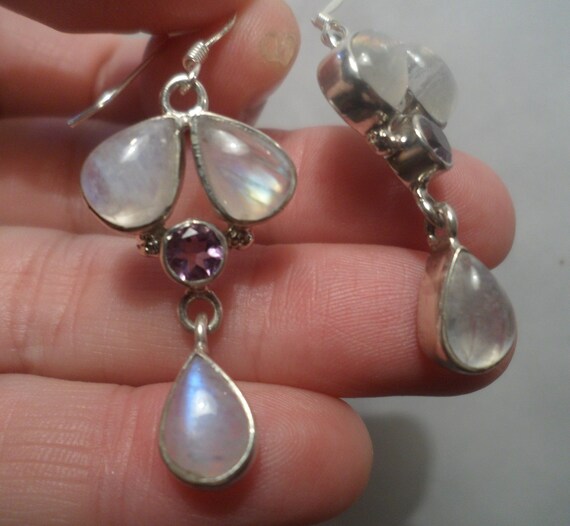 42.00 USD
(be sure to check measurements below)
EXCELLENT UNWORN VINTAGE CONDITION. Fresh out of my own collection! One doesn't see these everyday. Lovely natural Moonstones and Amethysts together. Lots of natural veins/inclusions.
One of my favorite combinations of gems – Moonstones and Purple Amethysts!
They are stamped 925 on the earwire hooks. Very beautiful gems.
***DETAILS***
** **Appr. 2 INCHES long including the Sterling Silver Earwire Hooks
x
Appr. just under 3/4 INCH widest part.
Appr. 10 grams together – quite substantial
**Please always check measurements since photos
can sometimes make items appear larger or
more distorted than they are :)**
EXCELLENT UNWORN VINTAGE CONDITION.
The
WORKMANSHIP INVOLVED
in making this
AMAZING WEARABLE MINI-SCULPTURES
PHENOMENAL
as there is so much
ATTENTION to DETAIL .
They are
SMOOTH like SILK
to the touch.
MINI WEARABLE-ART SCULPTURES,
meant to be
TREASURED and ENJOYED :).
This is an
ALL AUTHENTIC HANDMADE
work of
WEARABLE ART.
They look
STUNNING
on.
Very
SOLID-MADE.
This delightful pair of earrings came from an estate in the south
where they had the loveliest old unworn vintage jewelry for sale.
I do not know the artist's name.
This
TIMELESS PAIR OF EARRINGS
would make a
GREAT GIFT for ANYONE !
THANKS VERY MUCH for LOOKING 🙂 ! !