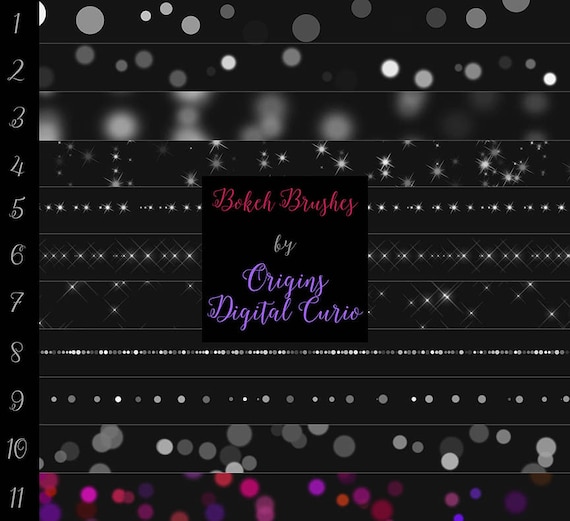 3.97 USD
Create dazzling, realistic bokeh light effects with just a click of your mouse!
This photoshop brush set includes a variety of 11 bokeh brushes, including sparkles, focused "lights" and unfocused "lights." All brushes are formatted for single color transfer except for #11, which has some foreground to background hue variation.
Created in Photoshop CS6, has not been tested with earlier versions! Sometimes there are compatibility issues, I cannot guarantee the brushes will work in earlier versions of photoshop.
Instructions:
1. Unzip your download
2. From within photoshop, select your brush tool and navigate to the unzipped ABR brush file to load them
3. Choose a color and paint on a new layer
4. For best results, vary size and opacity of your brushes
5. Sparkle brushes yield best results with white
6. To paint in a straight line, first hold down shift key and then click and drag your mouse
7. To change brush preset, hit F5 to access brush settings
8. All brushes shown in example use single color transfer, except for #11 which features foreground to background hue variation. To use this brush, first choose different FG and BG colors.
9. Please note these have not been tested in Photoshop versions earlier than CS6
10. Feel free to contact me with questions or for pointers, I am always happy to help!
Thanks for checking it out 🙂
* * * * * * * * * * * * * * * * * * * * * * * * * * * * * * * * * * * * * * * * * * * * * * *
* The images can be used for personal or commercial purposes. POD friendly! Commercial use does NOT require an additional license purchase! Hooray!
* Images can be used to create any PHYSICAL or PRINTED goods to be sold commercially without attribution or limit. One exception: printed paper using the designs as-is without changes requires an additional license.
* Any DIGITAL product using the images must be sold in the form of a flattened, complete design product. You may NOT sell as-is or make other digital design resources such as clipart, digital paper, digital kits, or add-ons.
To clarify further:
Digital design resources are not allowed. A digital design resource is something that your customer will use to further create with digitally. Finished digital artwork and products are OK. Finished products are ready to be printed or placed on products as-is with no or minimal creativity needed on the part of your customer. If you are unsure if use in your product is ok, please send me a convo.
* Do not redistribute, resell, share or copy. Purchase does not transfer copyright.
* Due to the nature of the product, there are no returns once the item has been downloaded.
At this time I cannot accept any custom orders, special requests or requests for color changes to existing clip art or digital paper. Even if the request is small, I get many per day and I struggle to keep up with a busy schedule. Thank you for understanding 🙂